Group of Horribly Optimistic STatisticians
Welcome to GHOST! Our science club is a community of enthusiastic data scientists who are passionate about exploring the world through numbers and probabilities. Whether you are a seasoned data professional or just starting to explore the world of statistics, join us and become a part of the next generation of optimistic statisticians!
Join us
Learn more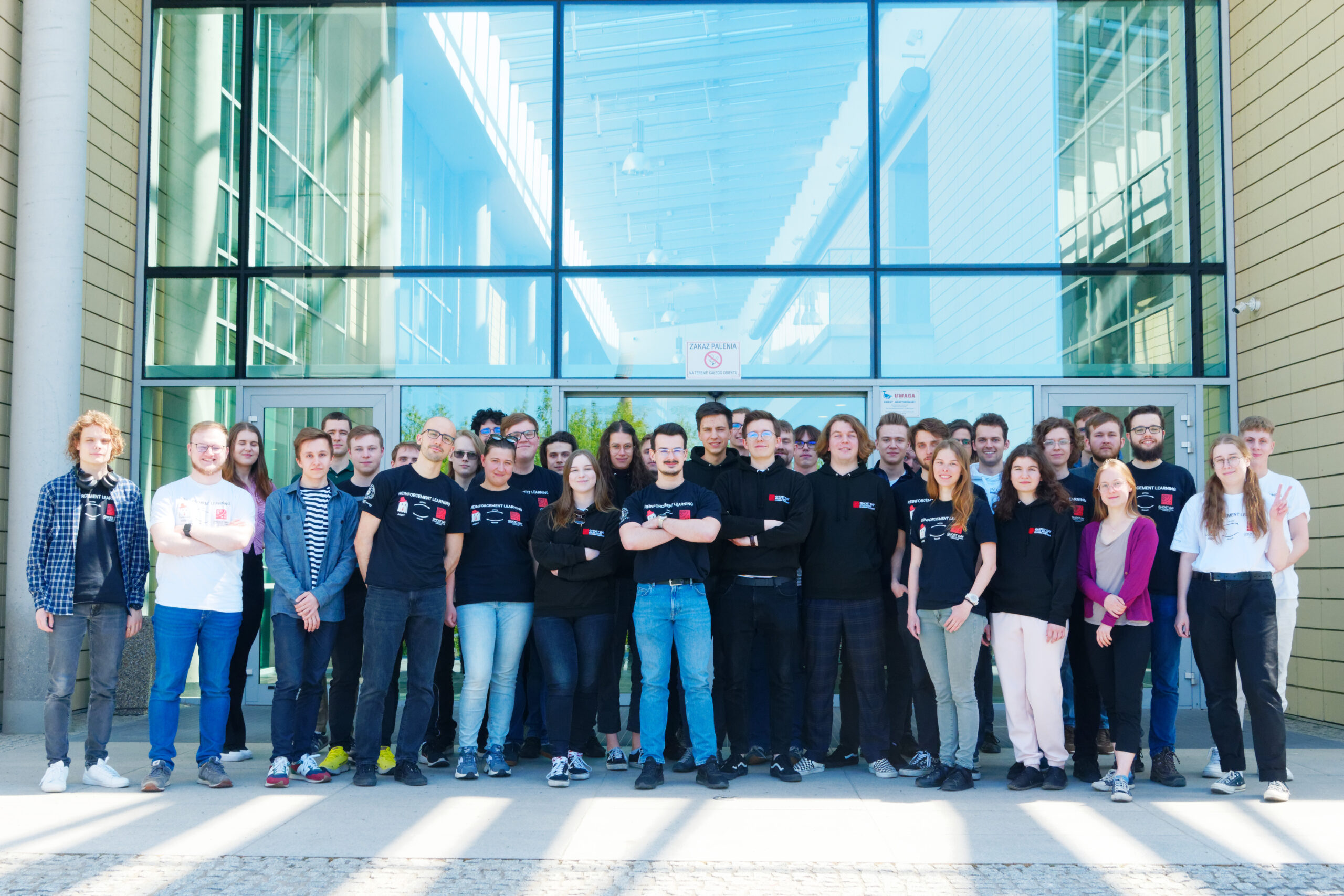 That's us
From the left: Łukasz, Piotrek, Agata, Antoni,  Sebastian, Krzysztof, Adam, Konstanty, Asia, Przemek, Zuzanna, Oskar, Jacek, Alex, Michał, Ignacy, Anna,  Łukasz, Tymon, Wojciech, Alicja,  Zuzanna, Kacper (behind the camera) and many more that preferred coding instead of photo shoot.
We meet each week and do fun stuff with not only Machine Learning.
Our sections
Sections are conducted in the Polish language. However, if there are people from abroad willing to join, we change to English. Schedule of meetings will be revealed soon.
Intro To ML
During the meetings, section members will be able to learn the basics about artificial intelligence, machine learning and regression models. But this time, in addition to the dry and hard-to-digest theory, participants will be able to see how machine learning works in practice, based on real-life examples using a variety of datasets. The main source of material processed at the meetings will be the iconic book "An Introduction to Statistical Learning," which is available for free online at statlearning.com. No knowledge of statistics, machine learning or artificial intelligence is required. This section is designed to introduce you to this new and interesting world in a smooth and enjoyable way, and help you solidly build a foundation that will allow you to join the more advanced sections of the Ghost study circle in the future. And if you feel like learning how to transfer knowledge and present something that fascinates you in front of people - you can also present chapters from the book and earn extra activity points for doing so. Translated with www.DeepL.com/Translator (free version)
Quantum Computing for ML
For those eager to stay in the loop with the bleeding (if not yet-to-bleed) edge of computer science, quantum computing might be the way to go. With its undeniable potential and numerous disruptive feats, the intersection of quantum mechanics and computer science spurs as much excitement in both the academia and industry as few other topics. In this section, we will strive to master exactly the juicy bits of theoretical physics and ML which make it the case. As rewarding as it will be challenging, our shared journey through the intricacies of quantum mechanics, mind-boggling algorithms, reimagined computing, and way more, will certainly be an enriching experience. So, if brain-tickling concepts are right up your street, if you want to broaden your ML skillset, or you simply don't want your algebra and calculus semesters to go in vain, joining our section of QTs (Quantum Tinkerers) will be an excellent choice! After all, everyone can agree that all the most enjoyable aspects of AI always start with a tad of theoretical physics and highly abstract mathematics! 
Ghost Day comitee
The GHOST Day Conference Committee is a close-knit group of extraordinary individuals dedicated to organizing one of the most prestigious scientific events in the field of machine learning. Our main mission is to create an excellent platform for machine learning fanatics to share their experiences and knowledge, and to provide an inspiring place to update their skills in a rapidly changing field. We enjoy the proud support of renowned experts in machine learning and committed corporate partners, which has already allowed us to organize four exceptional editions of our conference. Positive feedback from participants, speakers and partners is our best recommendation for the quality of our activities. Our dedicated committee team is constantly working to provide attractive speakers and topics for future editions of the conference. For machine learning enthusiasts looking to stay up to date with the latest trends and developments, there is no better place in Poznan than GHOST Day. This is a unique opportunity to learn, get inspired and network with like-minded people.
Tiny ML
TinyML is a construction-oriented section where we work on projects based on microcomputers and using machine learning solutions. In the upcoming semester, we will continue working on our six-legged robot based on the Jetson Nano platform. We will develop the control system for our robot and prepare image recognition models.
ML in TimeSeries
This section is dedicated to intermediate-level machine learning enthusiasts who want to learn how to handle TimeSeries with ML. We will start with introductory lectures connected with hands-on notebooks and then smoothly transition to reading the SOTA papers in this domain. The topics will range from classification and segmentation to forecasting. Feel free to join us!
NLP Seminar
The NLP section deals with how AI models process natural language. It is a theoretical section, mainly focused on reading and analyzing the latest developments in the field. Among other things, we have so far managed to analyze the operation of generative models like ChatGPT, understand how computers analyze the emotions and sentiment of texts, and how the quality of various models is checked.
Semi-Supervised Learning
Semi-supervised is like cereal with milk - it's about combining quite different approaches (supervised and unsupervised learning) to produce something more delicious than the sum of its parts. At the section meetings, we will look at some of the most interesting ideas in this category, based on the 2021 survey. The methods are quite diverse and I think the topic is quite interesting, so you are all cordially invited. Knowledge of the basics of deep learning will be useful.
Personal Information Management and Planning Systems
If you're one of the following:
power user
interested in RAG (retrieval augmented generation)
believes that language is the best interface
wants to use some NLP in practice
obsessive note taker / information hoarder
then this is a place for you! As PIMPS we are focused on latest NLP (and not only!) tools to help us automate management of proprietary information and boost productivity. Exchange ideas, share your projects and spend some great time!
Computer Vision Seminar
If you have a thirst for knowledge, want to better understand how modern devices collect, analyze and process images, feel like asking non-obvious questions and seeking comprehensive answers, then CV Seminar is for you. We will learn about the first computer vision algorithms, analyze how convolution works, delve into the architectures of neural networks that process images, as well as news in the field. Meetings focused on presentation and discussion - we focus on quality, not quantity of new information. Presentations will be accompanied by practical examples (in Python ;)), which you can further explore at your leisure.
Contact
We also invite people who would like to present some data analysis topics/projects at one of our meetings. We are open to suggestions!
Email :
Address :
Institute of Computing Science, ul. Piotrowo 2, 60-965 Poznan, Poland